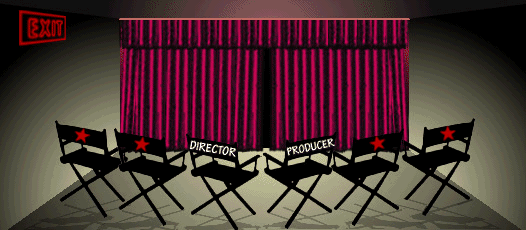 Lecture Room
The Film Scouts Language Laboratory
Essential Phrases for the Aspiring Poseur
Choose any vacant terminal, then select from the following:
New Programs:
Film Ratings Proposal: New Acronyms for Bandwidth Conservation
Cannes Talk: Speaking In Tongues
Geek Speak, Lesson 2
L. A. English, Lesson 2
The "Or-Id" Game: Special Wordplay Event
Other Offerings:
New Yawk Tawk: New York Film Festival Special Course
Shrink Talk: Cannes Festival Special Therapeutic Workshop
Ski speak (Sundance)
Geek speak, Lesson 1
LA English, Lesson 1
Riviera French (Cannes Festival)
The Film Scouts Interactive Screenplay Projects
We wrote the first scene, and visitors wrote the rest...
Boulevard de la Croisette (Cannes Film Festival 1997)
Fast Fiction (New York Film Festival 1997)
Park City Slickers (Sundance Film Festival 1998)
For further (somewhat related) materials, see also our own Jerry (the usher)'s Festival Diaries
Call Usher
back to lobby 6
Copyright 1994-2008 Film Scouts LLC
Created, produced, and published by Film Scouts LLC
Film Scouts® is a registered trademark of Film Scouts LLC
All rights reserved.

Suggestions? Comments? Fill out our Feedback Form.