1998 Sundance Film Festival Diaries
Solar Samba, Day 4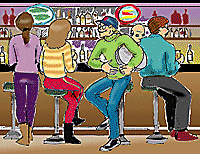 Sorry, Day 3 got lost - the dog ate it. Anyway, as you can see by this picture, I'm extremely busy. I've been walking around with this film can as a conversation piece, you know, there's actually just the Festival schedule and all the business cards I've been collecting in there, and maybe a candy bar... But everyone thinks I must have a film in the festival or something so they ask me about it.


Previous Installment | Next Installment
Copyright 1994-2008 Film Scouts LLC
Created, produced, and published by Film Scouts LLC
Film Scouts® is a registered trademark of Film Scouts LLC
All rights reserved.

Suggestions? Comments? Fill out our Feedback Form.