1998 Sundance Film Festival Diaries
Solar Samba, Day 5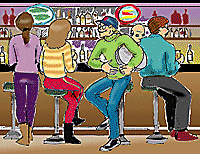 I was at the bar in the Shadow Ridge (again) last night an there was this kid at the next table talking on his cell phone. You know the creepy feeling, when you run into someone who looks too much like you do, but maybe has buck teeth or something... Anyway, this was what I heard:
"....No, I haven't exactly been accepted into film school there yet but I'm working on it. As soon as my old man will kick in the extra cash, I should be golden at NYU. They're just waiting for me to finish my script. Anyway, I'm working a great job now where I'm up-close-and-personal with some of some big-name actors...
".... No, no it's not in producing. No... it's not a P.A. either...
"Yeah, Im an usher! But I don't like the term, dude. I prefer the term, uh, 'patron services onsite manager.' Yeah, that sounds pretty good, right?
"Well, I quit the video store... yeah, well I figured since it worked for Tarantino it'd work for me, too. But I gave it up... three years without the big break. Groan"
[Frustrated] "Well, I don't find it very funny! Anyway, guess where I am? Sundance!... Our neighbors on the Island have this fat pad out here and they come to ski. They're letting me crash here for the fest...
".... It's a strange line-up of movies. The directors are a bunch of no-names. I was hoping Jim Cameron might have something here."
[Enthused] "Yeah, I know. "Titanic" is the bomb. You know, that's what the vision of Sundance is all about. It's a beautiful thing. Having all the money to make all the film decisions on your own, independently, like Cameron did on Titanic. It's a real unique thing that... HEY, I think I just saw Harvey Weinstein walking by. I gotta cut this short - I want to find him to give him my treatment for that 'Reservoir Dogs' sequel...
"....Yeah, gotta run. I'll give you a jingle in a few days. Word."
Well, that's too close for comfort... made me wince. Yikes.


Previous Installment
Copyright 1994-2008 Film Scouts LLC
Created, produced, and published by Film Scouts LLC
Film Scouts® is a registered trademark of Film Scouts LLC
All rights reserved.

Suggestions? Comments? Fill out our Feedback Form.