1996 Cannes Film Festival Diaries
Jerry (the usher)'s Magnifique Cannes Adventure, Part 8

We go out on the boat, cruise around the bay, come back.
It's nice, but it seems a little pointless... I guess I'm a landlubber at heart.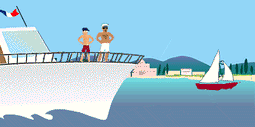 "Mr. Big" came along yesterday. He's really crude, but I can't dislike him,
he's such a self-caricature. He asked me if I had "gotten any..."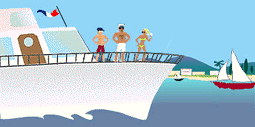 I didn't answer. "Never mind" he says, "when you make your
first hit, they'll beg to make you breakfast. How I love this business!"



Oh boy... I heard there's one guy who comes to the market here
and buys and sells movies by the yard. I wonder if he's the guy...
Previous Installment | Next Installment
Copyright 1994-2008 Film Scouts LLC
Created, produced, and published by Film Scouts LLC
Film Scouts® is a registered trademark of Film Scouts LLC
All rights reserved.

Suggestions? Comments? Fill out our Feedback Form.