1996 Cannes Film Festival Diaries
Jerry (the usher)'s Magnifique Cannes Adventure, Part 5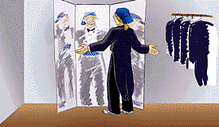 Well, the next day, we go into town, she says I have to be "properly attired"...
Guess she doesn't like my shorts, but jeez - a monkey suit! Turns out you
need a tux more or less to go to the evening screenings...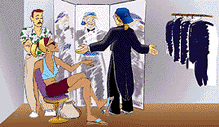 I protest, but she insists, "Come on, you look cool in that, especially with
the sneakers and hat, it makes it". I feel kind of kinky, but she's paying...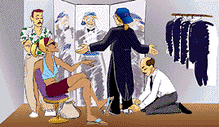 So, when in Rome, as they say...
Previous Installment | Next Installment
Copyright 1994-2008 Film Scouts LLC
Created, produced, and published by Film Scouts LLC
Film Scouts® is a registered trademark of Film Scouts LLC
All rights reserved.

Suggestions? Comments? Fill out our Feedback Form.