1996 Cannes Film Festival Diaries
Jerry (the usher)'s Magnifique Cannes Adventure, Part 4

Anyway, she has this incredible place, right on the water. There's some
amazing villas around here; did you ever see "French Connection II",
it's like that place that "Frog 1" was at near the beginning... I hope
there aren't any drug deals going down here! It's so rich, it's scary...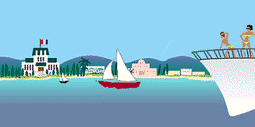 So, she says "I want to go for a cruise", so I put on my bathing suit, there's
these pretty girls hanging out on her yacht, I can't believe the scene
I've lucked into, I feel like Cinderfella, what time is it?...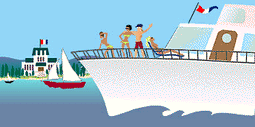 That's me, waving, and Régine (I think that was her name)
with her arm around me....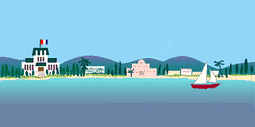 Previous Installment | Next Installment
Copyright 1994-2008 Film Scouts LLC
Created, produced, and published by Film Scouts LLC
Film Scouts® is a registered trademark of Film Scouts LLC
All rights reserved.

Suggestions? Comments? Fill out our Feedback Form.