1995 Telluride Film Festival Buzz
Telluride Festival Tributes
Telluride Festival Tributes
GUEST DIRECTOR: PHILLIP LOPATE
TRIBUTE TO JOHN SCHLESINGER
TRIBUTE TO ZHANG YIMOU
A TRIBUTE TO THE SURREALISTS
ANDREW SARRIS
FRANK BORZAGE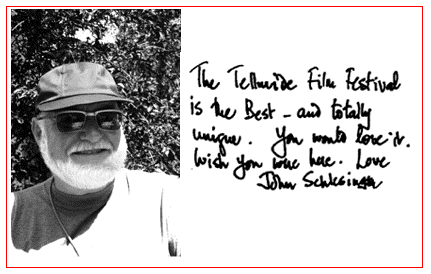 Director John Schlesinger at the Rockies Festival

Phillip Lopate is a charter member of the Telluride Film Festival family, having participated in our first festival in 1974 and contributed in various ways ever since. In 1976, he presented a memorable program of films made under his supervision by Grade School pupils from New York's P.S. 75. His credentials as a film critic major articles for Film Quarterly, Film Comment, Vogue, The New York Times, etc., four year tenure on the New York Film Festival Selection Committee, as well as curatorial contributions to the Pacific Film Archive and Houston Museum of Fine Arts, are impeccable. Of late, Lopate has added screenwriting to his remarkable film portfolio: his first assignment, an adaptation for Jane Campion of Christopher Isherwood's "My Guru and His Disciple."

Phillip's passion for film has not precluded a stellar literary career. He is generally regarded as one of America's most brilliant personal essayists. Aside from his own celebrated collections "Bachelorhood" and "Against Joi De Vivre" he has compiled a major anthology "The Art of the Personal Essay" from Seneca to the present.

He has also published two novels, "The Rug Merchant" and "Confession of Summer" as well as several poetry collections, and a classic book on educating the young "Being with Children." His eminence as a university English professor has brought him the prestigious Adams Chair at Hofstra, where he now sits.

He has recently relocated to his native Brooklyn, where he lives with his wife Cheryl and their daughter, Lily.


TRIBUTE TO JOHN SCHLESINGER

Despite having made films for over 30 years, John Schlesinger is a difficult director to pin down. He is affiliated with no particular genre, doesn't do many period films (though has done some), has made a few documentaries, but it's difficult to determine exactly what kind of films he makes. But what John Schlesinger has done is create films that span, experiment and provoke.

After making his first film at age 11, toying around as an amateur magician, then immersing himself in legitimate theater, he acted films, plays, TV, radio. His interest in photography and film solidified and led to a number of documentaries for the BFI, one of which, TERMINUS (1961), won a Gold Lion at Venice and a British Academy Award.

Schlesinger's feature films took on a similarly heterogeneous bent. He started off in kitchen sink realism directing working-class dramas like A KIND OF LOVING (1962) and BILLY LIAR (1963). If any unifying quality can be found in Schlesinger films, perhaps it can be located in these two: inter-personal relationships with characters pushed to extremes emotional, moral, physical in settings that convey an acute sense of place.

After DARLING (1965) and FAR FROM THE MADDING CROWD (1967), Schlesinger emigrated to American studios and made his best known film, MIDNIGHT COWBOY (1969). Like fellow emigres Wilder, Lang and Hitchcock, Schlesinger has a great fascination with and a critical but fond eye for American life, imbuing his films with an uncanny perception of the seedier side of Americana. Similarly tense, dark, controversial films followed: SUNDAY BLOODY SUNDAY (1973), DAY OF THE LOCUST (1975) and MARATHON MAN (1979).

John Schlesinger returned to work in England and made two brilliant films for the BBC, AN ENGLISHMAN ABROAD (1983) and A QUESTION OF ATTRIBUTION (1991), drawing from actual cold war spy cases and prompting David Thomson to refer to him as "The Lubitsch of English Espionage." But in addition to poking at sore spots of the recent past, the two were also expertly and sophisticatedly executed comedies, similar in that regard to his latest film, COLD COMFORT FARM, a sharp, cool comedy of manners.

Adapted from Stella gibbon's 1932 send-up of the portentous soul-searing literature of the D.H. Lawrence variety, COLD COMFORT FARM is directed with marked assurance. Recently orphaned Flora Poste, brimming over with "higher common sense," decides to stay with her forgotten relations, the enigmatic, ranting Starkadders of the gloomy, titular farm. Schlesinger maintains a controlled and artful hilarity, restraining but not repressing the almost over-the-topness of the comedy. Though an ocean and a culture apart, Cold Comfort Farm is closer to Ratso Rizzo's coldwater flat than one might first imagine: both are skillfully illuminated by John Schlesinger's keen awareness of character nuance and sense of time and place.

The Medallion presentation will follow a brief compilation program. COLD COMFORT FARM (1995, 100m) will then be shown in its entirety.


TRIBUTE TO ZHANG YIMOU

Ten years ago, Telluride showed Chen Kaige's YELLOW EARTH, the first "Fifth Generation" film to play in an American festival. Its novice cameraman, Zhang Yimou, who won the award for cinematography at Cannes that year, was one member of a select group of Beijing Film Academy graduates (class of '82) who have indelibly altered the manner in which the international cinema community regards Chinese film. Zhang now better known for directing is the most pivotal of this group.

His seven features are steeped in confidence, intelligence and beauty. Rarely has a director so fresh in his career inspired such acclaim from critics, festivals and audiences. Despite causing controversy on the home front, Zhang's films enchant; they are dreamy visions weaving intricate narratives, sensuous production design and an uncanny feel for human emotions.

Zhang Yimou photographed films for Chen and Wu Ziniu and acted in THE OLD WELL for Wu Tianming, the legendary head of Xi'an Studios, who received a Telluride Tribute in 1988. That same Festival featured the U.S. premiere of RED SORGHUM, Zhang's debut as director which had just won the Golden Bear at Berlin. This sensuous work marked the first collaboration between Zhang and Gong Li, the rapturous actress ubiquitous in most of his films.

JU DOU (1990) set in a textile dyeing factory allowed Zhang to elaborate on his remarkable use of color and light and honed his understanding of human will and the persevering nature of cruelty. In RAISE THE RED LANTERN (1992), a tale of bought brides, it is again a female protagonist who embodies suffering and revolt. The fourth wife's body provides a metaphor for the humanity of Chinese culture and history and the degeneration of the old feudal system. All Zhang's films are established in the past. In a country where history is written after the fact, then subsequently edited, Zhang's films serve as gentle allegories of how things were, or, still are.

THE STORY OF QUI JU (1993) and TO LIVE (1994) are as masterfully constructed as their predecessors, but with a more sobering emphasis on protean humanity, interior tension and depth of compassion than on imagery. In his most recent film, SHANGHAI TRIAD, Zhang approaches genre: the gangster film. Set in decadent Shanghai of the 1930s, the film focuses on a young country boy placed in the care of his uncle, a mob boss's lackey. With Gong Li as a petulant moll cum cabaret singer, and a return to lustrous colors, TRIAD is stylized, gripping and rich with directorial assurance.

In this tenth anniversary of Telluride's introduction of modern Chinese cinema to the U.S., how fortuitous to have among us not only one of the finest practitioners of that national cinema, but also a masterful director capable of conveying potentially volatile parables with a delicate subtlety, a photographer's eye and a sage's understanding.

Sequences from Zhang Yimou's films will be followed by the Medallion presentation and a surprise feature film.

A TRIBUTE TO THE SURREALISTS

This unique tribute pays homage to four artists who cut against the grain of mainstream filmmaking holdouts for higher standards for our Seventh Art. We salute Jan Svankmajer, the Brothers Quay and Guy Maddin as the Cinema turns 100 and threatens to become one giant international English-language "market driven" audio-visual assembly line.

Genuine film poetry is rare today. Our four steadfast artists share many things, from an artisanal approach to crafting dense prop-filled imagery, to survival strategies that do not include softening their visions for wider public consumption. They share a love of the oneiric, the often dark realm of dreams and the unconscious that so inspired the original surrealists Breton, Dali, Bunüel and the rest.

Our new modern surrealists also offer many visual equivalents of that old adage "The chance encounter on an operating table between an umbrella and a sewing machine" which sought to define the essential surrealist moment. Mysterious alchemy can transform an esoteric micro-drama into a crystalline paradigm on power. Just as the most enigmatic situation can suddenly turn erotic.

Jan Svankmajer is a genuine surrealist, part of the Czech branch that took root among poets and painters in the 30s and survived both Nazi and communist persecution to emerge as today's "militant surrealism." The Stalinist regime did provide, in one of its more benign aspects, a truly Kafkaesque surreal daily life environment, fertile ground for Svankmajer and his Polish counterparts Lenica and Borowczyk to create animated masterworks of perverse poetic and political commentary in the short-film genre.

The Brothers Quay, whose ingenious work in puppet animation was featured in our 1992 Festival, reflect influences from German Expressionism as well as from East European literature. Their first feature, in which actors give (deliberate) puppet-like performances, INSTITUTE BENJAMENTA, is based on a novel "Jakob von Gunxen" by another cult writer Robert Waiser, a Swiss-German miniaturist who influenced Kafka and spent the last decades of his life in a mental hospital.

As for Guy Maddin, what greater surrealist gesture could there be than his emergence in a Manitoba community of mostly Icelandic immigrants as a master of post-modern Expressionism. His three features TALES FROM THE GIMLI HOSPITAL (1988), ARCHANGEL (1991) and CAREFUL (1992) resurrect techniques from silent cinema to tell grotesque (and often hilarious) stories &shyp; suffused in Norse and Slavic mythology &shyp; of incest and stifled desire. All of his obsessions are concentrated into four minutes in his new short, ODILON REDON.

The complete tribute program, consists of THE FLAT (d: Jan Svankmajer, 1868, 13m), ODILON REDON (d; Guy Maddin, 1995, 4m) and the U.S. Premiere of INSTITUTE BENJAMENTA (d: Quay Bros, 1995, 105m), CAREFUL (d: Guy Maddin, 1992, 100m), a Jan Svankmajer retrospective consisting of: PUNCH AND JUDY (1966, 10m), JABBERWOCKY (1971, 12m), DIMENSIONS OF DIALOGUE (1982, 12m), TO THE CELLAR (1983, 16m), THE DEATH OF STALINISM IN BOHEMIA (1990, 11m) and FOOD (1992, 15m)


ANDREW SARRIS - Silver Medallion Recipient

The influence of Andrew Sarris on American film study has been so monumental that we need to stand back a ways to grasp its full dimensions. It was Sarris who, more than anyone else, gave Americans an appreciation of their own native cinema: first by translating the insights of Andre Bazin and the Cahiers du Cinema critics into American terms, and second by applying his own quirky ideas. Sarris's issue of the Spring 1963 Film Culture (later expanded into his seminal book, The American Cinema) was a bombshell, which carved up the territory into insouciantly decisive categories and ranks.

Sarris gave film buffs a map, above all. But he also taught us Sarris is a born teacher, to his students at Columbia and his readers how a choice of camera angle could express a moral position. He taught us to question fashionable, snob opinion, by asserting, for instance, that John Wayne and Doris Day were among our finest actors, or that there was nothing more "cinematic" than the married couple in Dreyer's GERTRUD arguing on the sofa, before a still, patient camera.

Sarris is identified with the "auteurist" position in film criticism, which argued for what he called a "renewed awareness of the film director as a conscious artist," promoting "the possibility of personal expression in the cinema." But he has also written sensitively about actresses, cinematographers, screenwriters, producers. His style on the page is that of a man thinking aloud: undogmatic, rambling at times, struggling to be fair, unsure where the process is taking him, then suddenly launching an insight that changes the way you think about film forever.

What separates Sarris from most working film critics is that he really knows the history of movies. He has been both deadline-beset, hebdomadal reviewer (first for The Village Voice, currently with The New York Observer) and unhurried, scholarly historian, with books on John Ford, Josef von Sternberg, and his forthcoming magnum opus, The American Sound Film. We tend to forget that when he came on the scene, film criticism was, in Sarris' words, predominantly sociological" and filled with "the thinly disguised nostalgia of elderly film historians for the mute movies of their youth." Sarris helped heal the split in film history between silent and sound pictures, by giving talkies their proper respect, without denigrating silence.

Sarris is unique in his role as a bridge: between silent and sound film; between formalism and humanism; between journalism and academic scholarship; between French and American outlooks; and finally, between masculine and feminine perspectives. Married to the distinguished critic Molly Haskell, over the years his gallant defense of women has acquired an increasingly feminist edge. Sarris is a self-confessed romantic, whose tastes run toward the redemptive and transcendent: Ophuls, Borzage, von Sternberg. He is, in print and in person, a good man: thoughtful, kind, with a horror of meanness, one who would always rather find something to admire than to hate. This generosity, too, has shaped the way we look at movies, in our best moments. &shyp; Phillip Lopate


FRANK BORZAGE - Presented by Andrew Sarris

Frank Borzage (1893-1962) loved lovers: he saw romantic love as a force that could bring out the best in the most ordinary or flawed people. Typically, Borzage characters are magnetized by sexual attraction but encounter impediments to their lust, and, through this struggle, their feelings deepen. Physical love becomes the path to spirituality. As with Mizoguchi, the appearance of love is followed shortly after by the demand for sacrifice.

Tenderness is Borzage's signature: it flows through his films, a tenderness of humor and humanity, inviting audience forgiveness for his characters' missteps. Surprisingly, for one who often worked in melodrama, Borzage has few villains: but then, it was his genius to sophisticate melodrama so that it became another, more painful form of realism.

He began making films in the silent era, during which he developed a mature, lyrically visual style. Yet he never achieved the star director status of a Ford, Capra, or Hitchcock, and was consequently forced by his studios to turn out some schlock, alongside pictures more suited to his talents. What suited him above all were romantic or women's pictures, as they were somewhat condescendingly called. His insight into feminine psychology made him appreciated as a director of actresses, and he extracted the best performances of their screen careers from Janet Gaynor, Helen Hayes, Loretta Young and Margaret Sullavan. He also made some very worldly comedies, including DESIRE, with Dietrich, and the priceless HISTORY IS MADE AT NIGHT, with Jean Arthur.

During the Sixties, Borzage became a prime figure in the debate over auteurism: for here was a director who toiled semi-anonymously within the studio system, yet the bulk of whose work displayed an undeniable consistency and quality. His fluid camera movements, gracefully lit compositions and tactful editing all display an irrepressible flair. But what lingers in the mind most about Borzage is his sympathy of conviction in the reality of love and the happiness it (however transiently) bestows.
THE RIVER
Pordenone '92 resented all that remains of this "almost lost" masterpiece to incredible acclaim. Starring Charles Farrell (LUCKY STAR) as the man who falls in love with a woman faithful to a prison inmate, THE RIVER concludes with one of cinema's most sweeping romantic expressions . (US, 1929, incomplete: about 55m)

MAN'S CASTLE
In perhaps the Depression era's sweetest but most forgotten films, a tough-guy (Spencer Tracy) and a penniless girl (Loretta Young) are incurably optimistic lovers setting up house together in a shantytown. Their romantic passion justifies, in Borzage's vision, theft and even murder. (US, 1933, 75m)

HISTORY IS MADE AT MIDNIGHT
Jean Arthur flees from the rich husband she doesn't love and falls for waiter Charles Boyer. Says Andy Sarris: "HISTORY IS MADE AT NIGHT is not only the most romantic title in the history of cinema but also a profound expression of Borzage's commitment to love over probability." (US, 1937, 97m)

Back to the Telluride Film Festival



Previous Installment | Next Installment

Back to Telluride Film Festival Buzz

Copyright 1994-2008 Film Scouts LLC
Created, produced, and published by Film Scouts LLC
Film Scouts® is a registered trademark of Film Scouts LLC
All rights reserved.

Suggestions? Comments? Fill out our Feedback Form.