FILM PROGRAMS - 1995 Telluride Film Festival
---
THE ARSONIST
Pierre Rissient received a Special Medallion at Telluride '93 in recognition of his enormous contribution to film culture. One of his specialties is discovering major new talents from the Asian Pacific, and among the many directors whose work he first introduced are: Jane Campion, King Hu, Chen Kaige, Hou Hsiao-Hsien, Lino Brocka, and Shin Shin Ock. This year at Cannes, Pierre presented to a select gathering of true cinema cognoscenti the work of U-Wei Bin Hajisaari and at that moment put Malaysian Cinema on the map. This program will feature THE ARSONIST, based on Faulkner's short story "The Burning barn": it's a powerful drama which exposes the plight of Javanese migrants in Malaysia by focusing on a farm worker's rage and the effect it has on his two sons. (Malasia, 1995, 70m) Also THE WATER CARRIER (d: Patricia Cardoso, US/Columbia, 1995, 50m) In person: Pierre Rissient, U-Wei Bin Hajisaari and Patricia Cardoso

Director U-Wei Bin Hajisaari, a long way from home, at Telluride.
Many British playwrights, among them Stoppard, Hare, Kureishi and Poliakoff have tried their hands at film directing, with fairly mixed results. Whatever trepidation one might bring to playwright/screenwriter Christopher Hampton's debut behind the camera and to yet-one-more Edwardian costume drama are quickly dispelled as one masterful scene follows another in a series of "chapters" devoted to the passionate, peculiar and platonic relationship between the eccentric Bloomsbury writer Lytton Strachey and painter Dora Carrington. Sexual triangles and quadrangles emerge in Hampton's brilliant investigation into the strange by-ways of love. Jonathan Pryce won "Best Actor" at Cannes for his hilarious and touching portrayal of the tormented, acerbic, homosexual author of "Eminent Victorians" and Emma Thompson is wonderful as the androgynous Carrington. (England, 1995, 123m) Also THE CUP (Nym Kim, Australia, 1995, 1m) In person: Christopher Hampton
China is arguably the most interesting and dynamic country in the world today. As the Chinese race towards the millennium and full-scale capitalism (officially known as "Socialism with Chinese characteristics", this highly personal documentary by Peter Kaufman (narrated by his father and executive producer Phil Kaufman) provides a superb, up-to-the-minute portrait of many colorful, paradoxical, manifestations of China's new spirit its "Wild East" energy echoing our own "Wild West" turbulence a century ago. Through interviews with former Red Guards and their victims in most cases personal friends of the Kaufmans the terrible years of the cultural revolution are evoked as a permanent backdrop to today's parade of billionaires, hookers, disco dancers, and everyday entrepreneurs. (US/China, 1995, 95m) Also THE ABDUCTEES (d: Paul Vester, England, 11m) In person: Paul Vester, Phillip and Peter Kaufman.
Jonathon Demme recommended this hugely promising first feature by Tim McCann which recalls another independent debut Cassavetes' SHADOWS. A quirky first-person voice winds through this absorbing tale about a moody, responsible young man who suspects his girl and his friend of cheating on him. Jealousy prompts him to enlist professional help to get revenge. But the real theme is the powerlessness of youth, just as the main attraction is the detailed texture and rhythm of Nineties daily life. Shot in New York outer boroughs, the film follows a group of twenty-something grads, up against economic realities (low-paying jobs), in heat, trying on adult masks of monogamy that don't quite fit. The title may be Kerouackian, but here at last is a Generation X film that gets it right! (US, 1995, 92m) Also EVIDENCE (d: Godfrey Reggio, US/Italy, 1995, 8m) In person Tim McCann, Michael Rodrick and Peter Bassett
Mikio Naruse, who died in 1969, was one of the four great Japanese directors, along with Mizoguchi, Ozu and Kurosawa. Virtually unknown here, he remains caviar for the happy few. His most acclaimed film, FLOATING CLOUDS, is an amour for a wartime love affair which founders when the man returns to his wife in peacetime, only to be taken up and broken off half a dozen times - which exactly caught the disenchanted mood of postwar Japan. Naruse's is a psychological, actor-oriented cinema; and here, Hideko Takamine gives one of the great screen performances as the stubbornly infatuated heroine, who knows her lover is a weakling but cannot give up the promise of their initial idyll. She is superbly partnered by Masayuki Mori, Japan's James Mason, as the ironic, selfish, downwardly mobile lover who can neither escape her persistence nor surrender to her love. (Japan, 1955, 123m) Presented by Phillip Lopate
Film lover, former Guest Director, raconteur and great Telluride friend is once again back: this year to introduce the films of Lumiere. Fortunately he also brings with him his fine new film about the aftermath of a cold- blooded murder committed by three young thieves. Bertrand Tavernier directs the '95 Berlin Grand Prize Winner and best French drama of the year with a restraint and detached compassion that allows these hollowed-out souls both their terrifying amorality and their touching vulnerability. (France, 1994, 114m) In person: Bertrand Tavernier
FROM THE JOURNALS OF JEAN SEBERG
Whatever you choose to label it: fictionalized memoir? essay film? necrologic meditation? movie criticism? call it a revelation. Veteran independent Mark Rappaport takes us into a new dimension in camera-stylo, examining the fertile, sad story of Jean Seberg, auteurist fetish-object of Preminger and Godard. Victim, complicitous masochist, or both, Seberg is seen as the first post-modern icon, whose blank stare resists transference. Purporting to be a tell-all confession from beyond the grave, the self-contained, wise ghost of Seberg (wittily played by Mary Beth Hurt) is contrasted with Seberg on film. Meanwhile, the analysis keeps deepening, as it picks up the appropriate threads of history, radical politics, film theory, gender and gossip, and ties them into a lucid, thought-provoking, compulsively entertaining feature. (US, 1995, 95m) Also 4 LETTER HEAVEN (d: Cecily Rose Brown, US, 1995, 5m) In person: Mark Rappaport
A tough-as-nails Ida Lupino shoves her younger sister Joan Leslie into the show business limelight in THE HARD WAY, a gritty 1942 backstage drama that has all the harsh realism of Forties film noir, sans murder. The first-rate script abounds in mature psychological shadings you're not sure whom to root for: the driven, manipulative Lupino is oddly sympathetic, while her ingenue victim Leslie seems annoyingly passive. Jack Carson is terrific, as usual, in his jaunty-schnook supporting role. And veteran director Vincent Sherman holds it all together with silky narrative poise and seductive visuals. Says Sherman: "The longer I'm away from the studio system, the more I appreciate its greatness. I'm just glad I was around at its height" The beautiful 35mm print comes from the incomparable Turner Library. (US, 1945, 109m) In person: Vincent Sherman presented by Phillip Lopate
THE JOURNEY OF THE AUGUST KING
Here is a rare and welcome treat &shyp; an American period film done with intelligence and style, telling a story about black-white relations in the time of slavery through spare and subtle dramatic means. Avoiding sledgehammer didacticism, John Duigan (SIRENS, FLIRTING) has made his best film as Jason Patric plays a North Carolina settler who comes across a beautiful young runaway slave, played by Thandie Newton. Both Patric and Newton understand that "Less is more" in projecting closely observed emotions coming from their characters' sudden intimacy and growing affection as they undertake a journey that will liberate both of them, but in very different ways. Aside from the wonderful lead performances, THE JOURNEY OF AUGUST KING is distinguished by sublime cinematography by Slowomire Idziak and strong production design by Patricia Norris. (US, 1995, 95m) In person: John Duigan, Thandie Newton and Sam Waterston
Telluride joyfully pairs two fresh comedies, made by women, about two irresistible men whose aspirations are blissfully realized. Lieberman is a wealthy widower who goes to Hawaii to find true love but meets instead a "very special lady" with a heart of gold and a bank account in Switzerland. First-time director Christine Lahti co-stars with Danny Aiello in this romantic gem. (US, 1995, 40m) Augustin is a dedicated office worker in a small insurance company who plays bit parts in TV series but longs to act for the great Japanese film masters. Like Mr. Hulot and Mr. Bean, he hasn't the slightest idea that he's a walking one-man comedy act as he purposefully strides through life. Anne Fontaine's second film she won the coveted Prix Jean Vigo for her first stars Jean-Chretien Sibertin-Blanc, who plays the hilarious Augustin with a dignified solemnity and deadpan eccentricity. (France, 1995, 61m) In person: Christine Lahti and Anne Fontaine
THE MAN WITH THE MOVIE CAMERA (Chelovek's kinoapparatom, 1929) ranks among the icons of Soviet constructivist cinema: a dazzling monument to dynamism, body/machine aesthetics, and the utopia of a new society. Despite its reputation as a classic, it has been forgotten that Vertov himself wrote the music for the film, yet he never saw it performed after the 1929 premiere! The Pordenone Silent Film Festival has uncovered the manuscript in the State archives in Moscow and invited Telluride discovery the Alloy Orchestra (SYLVESTER, LONESOME) to bring back to life Vertov's visionary project. The result is an astonishing, twisted symphony of musique concrete, early radio broadcasts and popular tunes, a head-spinning aural experience for a film designed to celebrate the beauty of chaos. (USSR, 1929, 65m) In person: Paolo Cherchi-Usai and the Alloy Orchestra (Terry Donohue, Caleb Sampson & Ken Winokur) in performance!
The third film by one of China's leading woman filmmakers, Ning Ying's ON THE BEAT recalls Milos Forman's FIREMAN'S BALL in its successful use of non-professionals, and as a political parable disguised as a documentary-like study of the mundane, somewhat absurd routines of a very local public institution. Here, real-life Beijing policemen portray both police and their detainees in a story that begins with an almost comical crusade to capture a rabid dog. Things escalate to a crackdown on citizens illegally harboring pets in housing estates.. Beijing, like Tokyo, is dotted with neighborhood police posts that are as much community centers as US-style police stations. In evoking one such Beijing command environment so authentically, Ning Ying tells us more about China today than any number of books on the subject. (China, 1995, 102m) Also YOUR NAME IN CELLULITE (d: Gail Noonan, Canada, 5m) In person: Ning Ying
The Institute Lumiere presents a selection of films made by Louis Lumiere, chosen from among the 1,500 that comprise his legacy. Festival audiences will be treated to a re-creation of the famous "First Picture Show" at the Grand Cafe in Paris on December 28, 1895. It was then that 33 spectators saw the first film actors: workers leaving the Lumiere factory; a young scamp sprinkling the gardener with water from his hose; oarsmen having difficulty making headway; and Louis's brother Auguste, with his wife and baby daughter Andree. Lumiere films are about places Lyons, France, the whole world but are also born of a passion for storytelling. Let there be no doubt: Louis Lumiere is not only the last link in a line of inventors Marey, Edison, Muybridge, but just as much the first link in another chain comprised of auteurs, producers and directors. (France, 1895-1903, about 60m) In person: Bertrand Tavernier and Thierry Fremaux
Like CARRINGTON, this new Jane Austen adaptation is that most unexpected event an English literary costume drama that looks and feels wholly original. PERSUASION shows no signs of influence from even the finest Merchant Ivory classics. Some clues to its distinction: costumes that look lived-in, make-up true to Austen's time more than ours, telling glimpses of the laboring classes on the margins of the great manors, a sensual visual responsiveness to all palpable phenomena weather, landscape, food, animals. One must credit director Roger Michell for creating such a vigorous and intensely dramatic film, and for evoking, in the magnificent performances of Amanda Root and Ciarn Hsmas, the most powerful expression since THE PIANO of the ever-provocative idea that no love is as strong as one denied. (England, 1995, 102m) Also GAGARINE (d: Alexij Kharitidi, Russia, 1995, 4m) In person: Amanda Root and Roger Michell
In an era when humor is coarse and love means sex, how rare it is to find a treasure from that most forgotten of cinema's genres, the romantic comedy. The freshest surprise of the 1995 film year was written and directed by Bryan Gordon, the writer-director of the Oscar-winning short film RAY'S HETEROSEXUAL MALE DANCE HALL. In this whimsical saga of a young man whose two life-consuming passions are unraveling traffic gridlock and an avant garde dancer, here are fleshed-out characters that we care about, situations that are really funny and a story that keeps us guessing until the final fadeout. Josh Charles and Anne Heche play the lovers we love. As Telluride revives the classic romances of Frank Borzage, PIE IN THE SKY fits right in. (US, 1995, 95m) Also ANOTHER FROGGY EVENING (d: Chuck Jones, 1995, 6m) In person: Bryan Gordon, Josh Charles, Anne Heche, Christine Lahti, Peter Riegert and Chuck Jones
Wojciech Has' THE SARAGOSSA MANUSCRIPT, one of the great masterpieces of Eastern European cinema, is a story without end &shyp; a closed loop that begins with ghosts and the supernatural, proceeds with a series of strange evanescent experiences, and finishes where it began, with rousing derring-do and spooky magic. These are the picaresque adventures of a young nobleman of the 17th century, who encounters phantoms, spirits, fiery Gypsies, and dreamlike maidens of all sorts. The film is a baroque fantasy based on a collection of bizarre stories under the same title by one Jan Potocki, a peripatetic nobleman, whose life was as strange as his book. Not available in decades, this cult classic has now been restored in a new glorious black and white 35mm cinemascope print, destined to reside at the Pacific Film Archive. (Poland, 1964, 150m) Presented by Edith Kramer
What happens when a still photographer, trained to seize the "decisive moment," picks up a movie camera and is suddenly faced with an unending flow of moments? Laszlo Moholy-Nagy let movies liberate him from compositional severities with GYPSIES. Rudy Burckhardt created a touching, magnificent city symphony in THE CLIMATE OF NEW YORK. Helen Levitt, Janice Loeb and James Agee fashioned that quintessential street-film, IN THE STREET. Ralph Steiner dove deeper into photographic abstraction in H2O. Gjon Mili made a classic jazz movie, JAMMIN' THE BLUES, shot like a stylized Life spread. Bruce Weber used scrapbooks and movie clips in GENTLE GIANTS to recall boyhood crushes. Robert Frank made the somberly powerful LIFE DANCES ON in memory of a daughter killed in an accident. All add up to a feast of cinematic invention and an excuse to show some of our favorite films. (US, 105m) Presented by Phillip Lopate
If ever a recent film can be said to have a legacy beyond its own medium, it certainly must be SCHINDLER'S LIST. The making of that cinema masterpiece inspired Steven Spielberg to create the Survivors of the Shoah Visual History Foundation which has taken on the responsibility of locating and recording the testaments of the survivors and witnesses of the holocaust. Here is just the first product of that monumental undertaking: a riveting assembly of selected interviews which recounts the history chronologically from Hitler's rise to the present day but which reveals the horrifying and impassioned story in a way we have never seen before. Fifty years after the camps were freed, Telluride remembers, and is honored to have in its presence one of the survivor/witnesses. (d: Allan Holzman, US, 1995, 55m) In person: Helmuth Spryczer and Allan Holzman
THINGS TO DO IN DENVER WHEN YOU'RE DEAD
Actors are like thoroughbreds. They like to race all-out. Too often the best American actors are reined in, forced to go at half-trot in tame pc-liberal dramas or pallid romantic comedies, or worse, play cartoon figures in animated special effects storyboards. Thanks to Quentin Tarantino, actors can now truly show their stuff in a new genre of crime film in which black comedy, inventive self-reflective dialogue, subversive plot structures and crazed nihilistic energy redeem ultra-violent scenarios, transforming "Bad guy" hitmen, conmen, and assorted gangster trash into likable villains who entertain us with their wits even as they wreck havoc and spill gallons of blood. Andy Garcia, Treat Williams, William Forsythe, Christopher Lloyd, Bill Nunn, Steve Buscemi and Christopher Walken shine in this year's PULP FICTION, written by Scott Rosenberg and directed by Gary Fleder. (US, 1995, 114m) In person: Gary Fleder, Scott Rosenberg and Treat Williams
Bigas Luna's THE TIT AND THE MOON is a soulful, charming, erotic fantasy a paen to puberty and patria mia. Bigas is from Catalonia, a country where for half of the 20th century its inhabitants were forbidden to converse in their own language. Luna was born next to the Mediterranean, "a little sea for little children," as he says, where he "took first communion in the Romanic monastery of Pedralbes in Barcelona." He believes and celebrates the beauteous facts that a woman's breasts are the fountains of life, that tears are holy water meant to be savored, and that the pure visions of children should not be ignored. This is a story of first love, of last love, and the need for courage, which are, of course, the subjects of poetry. Recalling the magic of Fellini, Bigas Luna's film is a gentle, personal poem from the Mediterranean, meant for the world to read. (Spain, 1995, 88m) In person: Bigas Luna
Gus Van Sant's new film is a biting, vibrant satire on the amoral, all-American quest for fame and glory, skillfully adapted by Buck Henry from Joyce Maynard's novel, which in turn was based on a spousal murder that scandalized a squeaky clean New Hampshire community a few years back. Nicole Kidman gives a full-throttle star performance as an ice-cool manipulative Barbara Walters wannabe who decides that her bartender husband (Matt Dillon) is holding her back. Narrated as a pseudo-documentary, peppered with often hilarious interviews with the seacoast locals, TO DIE FOR is truly wicked fun, even as it presents an ultimately sordid story of media-induced ambition, sub-Generation X teenage gullibility, and heartless murder-for-hire with sex as currency of payment. (US, 1995, 100m) Also SWINGER (d: Gregor Jordan, 1995, 5m) In person: Gus van Sant, Danny Elfman, Joyce Maynard and Gregor Jordan
The scandalous relationship of French poets Arthur Rimbaud and Paul Verlaine is filmed in a mesmerizing drama of passionate misalliance. Two of the screen's gutsiest, all-out gifted actors, Leonardo DiCaprio and David Thewlis, join forces, giving a pair of unforgettable performances as the poets who run away together. The middle-aged, married Verlaine, still very attracted to his beautiful wife, becomes besotted with the teenage Rimbaud, whose verses seem to him the poetry of the future. But what makes the portrayal of the two men's relationship so subtle is the brilliant balance of need, competition and betrayal. Christopher Hampton again supplies a pungent, witty, and worldly "period" script. Agnieszka Holland directs with her customary taut control and a visually lush palate that recalls the grandeur of 19th Century French painting (US, 1995, 110m) Also SORTIE DE BAIN (d: Florence Henrard, Belgium, 1995, 5m) In person: Christopher Hampton, Agnieszka Holland
While "roadkill on the information superhighway" is now a cliched phrase, the daunting truth behind the sentiment is becoming clearer and more real as we approach the fin-de-millenium. Director Mark Harrison posits VISIONS OF HEAVEN AND HELL as a cautionary tale cum film poem of the infiltration of technology into our accelerating lifestyles where we are presented with vast amounts of information but with no blueprint for the future. Technology facilitates our lives, frees up spare time, sends business moving more quickly than ever, but at what cost and to whom? Liquid photography influenced by Godfrey Reggio brackets interviews with cutting-edge forecasters like William Gibson, Faith Popcorn and John Naisbitt. Tilda Swinton narrates in a narcotic voice that eerily evokes both honeyed reassurance and a feminized version of the HAL 9000. (England, 1995, 150m) In person: Mark Harrison and John Naisbitt
In 1975, Fred Wiseman, America's premier documentary filmmaker and the anatomist of our social institutions (TITICUT FOLLIES, HOSPITAL, HIGH SCHOOL) turned his lens on a big city welfare office. The result was his wildest, most Dostoevskian work and arguably his masterpiece. Twenty years later, it's time to take a second look. Wiseman's gritty black and white, patient camerawork paid off dramatically, as petitioners and caseworkers, trapped in the same office, frustrated by the intractability of poverty and a system designed to help only so far, begin to go off the deep end, emoting before the camera with arias of ferocious humor and desperation. Evocative of Kafkas's "The Castle," Sartre's "No Exit" and Menotti's "The Consul," Wiseman's WELFARE is the summing-up work of the Age of Bureaucracy. (US, 1975, 167 m) In person: Frederick Wiseman introduced by Phillip Lopate
WARRIOR LANLING

This spectacular epic film set in China's distant past and filmed in a remote area of Yunnan Province with a cast drawn from the Bal, Yi and Naaxi minority peoples is like no other from China. Influenced by Kurosawa, Bergman and Coppola, WARRIOR LANLING seeks to restore China's sense of its own cultural origins: the "Phoenix" (shamanistic, often matriarchal) heritage which was largely stamped out by the dominant "dragon," or yellow earth, culture that later evolved into centuries of patriarchal Confucianism. Enormous battles between warring tribes, rituals from a primal myth involving a boy and a mask, chthonic rites and dances are all stunningly filmed. Though it risks ridicule at moments of mytho-poetic over-kill, WARRIOR LANLING is the most visually kinetic film in Telluride and introduces a prodigiously talented new filmmaker, 34-year-old Sherwood Hu. (China, 1995, 95m) In person: Sherwood Hu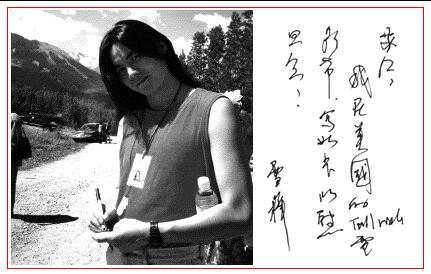 Sherwood Hu takes in the fresh mountain air.
According to many observers, among them Werner Herzog, cinema is alive and well in two countries China and Iran. No one disputes the full-scale renaissance in Chinese Cinema. But Iran? Fundamentalist, fanatic Iran? Yes, thanks to such masters as Abbas Kiarostami and Mohsen Makhmalbaf, Iranian cinema is enjoying spectacular success at the world's major festivals. This year's Camera D'or winner at Cannes, directed by Jafar Panahi, exemplifies the virtues of contemporary Iranian filmmaking: story-telling of classic simplicity, post-modern minimalist mise-en-scene and a sense of adventure in everyday life. THE WHITE BALLOON reveals the terror and wonders of the world from the viewpoint of a seven-year-old girl trying to buy a goldfish in Tehran: a film as basic and profound as THE BICYCLE THIEF. (Iran, 1995, 85m) Also YEAR OF THE DEER (d: Georges Scwizgebel, Switzerland, 1995, 5m) Presented by Werner Herzog
THE WANDERERS

Put on those maroon and gold jackets and join us for a rare showing in the director's own cut, six minutes longer, of Phil Kaufman's energetic and impressionistic story of Bronx/Italian high school life in the early 60s. telluride's aging, but nonetheless intrepid, chapter of "The Wanderers" welcomes its' leader back to town. (US, 1979, 120m) In person: Phillip Kaufman
Back to the Telluride Film Festival
Copyright 1994-2008 Film Scouts LLC
Created, produced, and published by Film Scouts LLC
Film Scouts® is a registered trademark of Film Scouts LLC
All rights reserved.

Suggestions? Comments? Fill out our Feedback Form.