The 1995 Gotham Awards for Independent Film
Robert Shaye, the Chairman of New Line Cinema, received the Lifetime Achievement Award for his work in independent film. Ted Turner and New Line's own Michael Lynne presented the award.

Abel Ferrara received the Filmmaker Award from actress Annabella Sciorra.

Pauline Kael, the noted film critic, received the Writer Award from director Jonathan Demme.

Casting Director Juliet Taylor received the Below the Line Award from Academy Award winning Actress Diane Wiest.

Rebecca Miller, the daughter of Arthur Miller, received the Open Palm Award as best new director for her film ANGELA.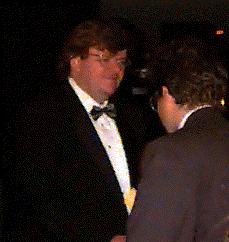 Michael Moore, emcee of the event. His independent film Canadian Bacon opens today in NY.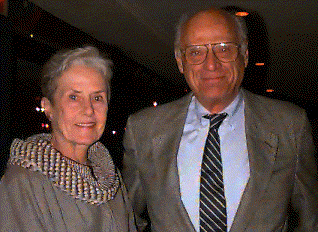 Arthur Miller and his wife Inge Morath, big fans of Independent film and their daughter.
---
Independent Film Channel Outstanding Film of 1995 Award
The $3000 prize was awarded to Columbia University student Caroline Cave for her film POLIO WATER, a story set in the 1950's when polio was epidemic among children.

Seven other $1000 awards were given to:
Gregory Wilson, New York University - The Last Call.
John Kelleran, New York's School of Visual Arts - The Painter.
Aion Velie, UCLA - The Organ Grinder.
Jonathon Cordish, USC - Lost Mojave.
Brian Parker, Ohio University at Athens - Drawing Lots.
Derek Cian France, University of Colorado at Boulder - Raw Footage.
Aoarna Bakhle, Emerson College - Ecclesiastes 2:11.
Back to the Independent Feature Film Market 1995
Copyright 1994-2008 Film Scouts LLC
Created, produced, and published by Film Scouts LLC
Film Scouts® is a registered trademark of Film Scouts LLC
All rights reserved.

Suggestions? Comments? Fill out our Feedback Form.