2014 Festroia International Film Festival Diaries
Diary Part 2
Facets of Fundamentalism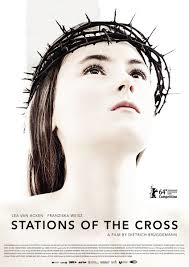 Hailing from Germany, the opening night film, Dietrich Brüggerman's Kreuzweg ("Stations of the Cross") is an exposé of the dangers of religious extremism, particularly of the way it may affect sensitive youths.
Its main character is 14 year old Maria whose family belongs to a fundamentalist Catholic community. As we see her interact with her school mates as well as her family – especially with her autistic brother –, by most standards, she appears to be a "regular" kid. Deep down, however, her heart belongs to Jesus and she aims to follow his steps. Gradually convincing herself that sacrificing her life will save her brother, she goes through fourteen stations - as Jesus did on his path to Golgotha - on her way, she hopes, to sainthood.
The story is told in fourteen tableaux - fixed-camera, set angle long shots - numbered and named after the fourteen Stations of the Cross. An intellectually seductive idea, which unfortunately (at least for me) works out as a straightjacket.
---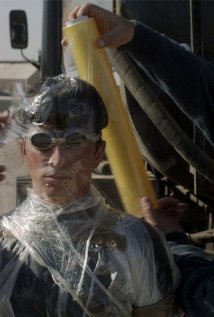 Before Snowfall puts another facet of fundamentalism under the microscope. Although it is shown in the First Works section, it is actually the second feature directed by Kurdistan-born, Norway-raised Hisham Zaman, who collected many awards on the festival circuit for his short Bawke (2006) and his first full-length film Winterland (2007). It is at once a road movie and a questioning about Kurdistan (the people of which is divided between Iraq, Iran, Syria and Turkey), about immigration, and, more openly, about honor killing.
The film opens with the striking image of Siyar, a 16-year-old Iraqi Kurd being wrapped from head to toe in cling film, then submerging himself in an oil tanker in an attempt to illegally cross the border into Turkey. His mission: finding his sister Nermin who fled from an arranged – imposed - marriage, thereby bringing shame and dishonor to the family. Since the boy's father is dead, it is Siyar's obligation, as the eldest son, to kill Nermin and restore the family's honor.
In Istanbul, he meets a younger girl, Evin, whose situation is comparable to his. They travel together, from country to country (Greece to Germany to Norway), from culture to culture, from teen-dom to adulthood.
Wonderfully shot, in a palette as varied as the countries the two youths happen to cross, the film is also subtly acted, mostly by non-professionals. Not exactly a "date movie", but quite interesting.


Previous Installment | Next Installment
Copyright 1994-2008 Film Scouts LLC
Created, produced, and published by Film Scouts LLC
Film Scouts® is a registered trademark of Film Scouts LLC
All rights reserved.

Suggestions? Comments? Fill out our Feedback Form.