2014 Festroia International Film Festival Diaries
Diary Part 1: Introduction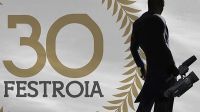 SETÚBAL, PORTUGAL, early June 2014 - Returning to Festroia after a few years of absence, one finds oneself intriguingly tugged between the old and the new.
The old (so to speak) : the Festival team is still in place, as are the various sections that have come to define this annual event. Among them: the Official Selection / Competition, First Works, Man and His Environment, Shorts, and a Retrospective of films from a specific country (this year: Germany).
The new: a majorly rehabilitated town center. Determinedly geared toward culture and the arts, it now has a Casa de la Cultura (which houses the Festival staff during the event), a new (and wonderful) Municipal Gallery and, next to it, a completely refurbished Luisa Todi Theater where all the Official Selection screenings take place. Quite an achievement, right in time for Festroia's 30th anniversary.
Set in Setúbal, a half-hour drive south of Lisbon, the film festival known as Festroia draws its name from that of the peninsula – Troia -- that faces the city. Most of it consists of forty miles of pristine sandy beaches with, at one end, a few big hotels and a casino (holiday center, anyone?) and, at the other, guess what?: a golf course.
That is where the festival was born thirty years ago. As is often the case, the initial intention was to support the tourism industry and boost the resort-to-be. Ten years later, aiming for a larger international recognition (and audience), it moved to Setúbal.
Fortunately, the festival was founded and driven by a group of committed intellectuals – among them, most notably; writer Mario Ventura Henriques who died in 2006. Very early on, the decision was made by the selectors to focus on countries that produce less than thirty films a year -- so adieu the US, France and India, hello Belgium, Denmark and Latvia.
Now run by Ventura's significant other, Fernanda Silva, Festroia has remained what it set out to be: culture-oriented and user friendly. No red carpet here, just films.


Next Installment
Copyright 1994-2008 Film Scouts LLC
Created, produced, and published by Film Scouts LLC
Film Scouts® is a registered trademark of Film Scouts LLC
All rights reserved.

Suggestions? Comments? Fill out our Feedback Form.