1998 Cannes Film Festival Diaries
I Think I Cannes #5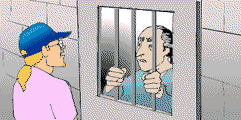 Well, a few days later, I hear from Mr. Bigdeal again. He called me from the Cannes jail, he sounded pretty desperate so I went down there to see him.
It turns out he's been arrested for breaking into the office of one of the big publicists and stealing party invitations and screening tickets. There had been a similar theft last year and so they had installed a silent alarm. They nabbed him coming out.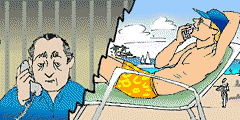 He had made his first phone call to me. I think he was too embarrassed to call anyone else. Anyway, he asked me to get him a local lawyer to get him out.
I couldn't help myself, I kept giggling the whole rest of the day.


Previous Installment | Next Installment
Copyright 1994-2008 Film Scouts LLC
Created, produced, and published by Film Scouts LLC
Film Scouts® is a registered trademark of Film Scouts LLC
All rights reserved.

Suggestions? Comments? Fill out our Feedback Form.