1998 Cannes Film Festival Diaries
I Think I Cannes #4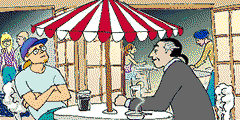 I'm still furious about Mr. Bigdeal's small deal with me, but he called me up and apologized and said that he had something important to discuss. We met at a café near the Palais. First he asks me if I have my Hi-8 camera with me, which of course I do, so then he asks me how'd I like to make a "little documentary film."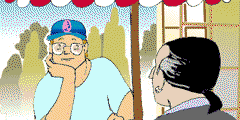 Well, this is interesting, I'm thinking, is this on spec or is there money, what's the subject matter, why Hi-8, etc.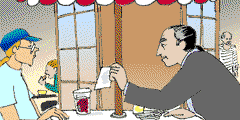 But before I have a chance to say anything, he continues: "There's a guy, he's staying at the Carlton. Here's his picture."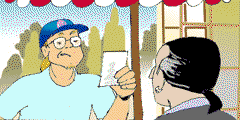 I get it. Have shotgun mike, will travel. A divorce case or whatever. Oh boy, so that's what he really does - yeah, right, documentaries.


Previous Installment | Next Installment
Copyright 1994-2008 Film Scouts LLC
Created, produced, and published by Film Scouts LLC
Film Scouts® is a registered trademark of Film Scouts LLC
All rights reserved.

Suggestions? Comments? Fill out our Feedback Form.