1996 Cannes Film Festival Diaries
Jerry (the usher)'s Magnifique Cannes Adventure, Part 2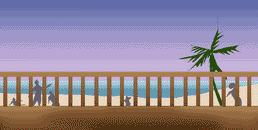 Well, there it was, finally, the beach at Cannes...
I got out of the car, was about to say "au revoir",
but then my gorgeous hitch-hikee, she says,
"Wait, I want to go for a walk, come with me..."



We found a café, had a drink, made small talk...
I couldn't believe it, me sitting talking to a real movie star...



Then, out of the blue, she asks me if I have a place to stay...
She wants me to come to her villa, be a "houseguest" (à la Kato)...
You know, answer the phone, maybe feed the dog...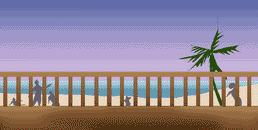 Previous Installment | Next Installment
Copyright 1994-2008 Film Scouts LLC
Created, produced, and published by Film Scouts LLC
Film Scouts® is a registered trademark of Film Scouts LLC
All rights reserved.

Suggestions? Comments? Fill out our Feedback Form.