2000 Cannes Film Festival Diaries
Pop-Top Cannes #4
Film Scouts on the Riviera 2000 is presented by: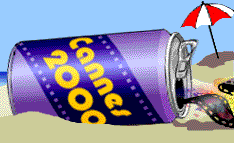 I hear from Slick again, he sends a note via messenger. He invites me for lunch at the Majestic's beach restaurant. He's gotten a little too much sun so we sit in the shade.
Just as we're about to order lunch, who should walk by our table but "Mr. Big", my mogul acquaintance from my first trip to Cannes in 1996. He stops to say hello.
"Finished that script yet, kid? Why haven't you sent it to me? I've been expecting to hear from you. You can't polish forever, you've got to ship. See you around." He walks on.
"Wow, fabulous", says Slick. "How do you know him? He's one of the toughest guys to get to in all Hollywood, a real tent-pole type. It would really make my day if I could get him to say hello to me."


Previous Installment | Next Installment
Copyright 1994-2008 Film Scouts LLC
Created, produced, and published by Film Scouts LLC
Film Scouts® is a registered trademark of Film Scouts LLC
All rights reserved.

Suggestions? Comments? Fill out our Feedback Form.