2000 Cannes Film Festival Diaries
Pop-Top Cannes #3
Film Scouts on the Riviera 2000 is presented by: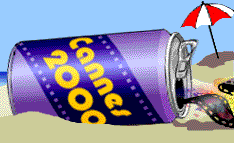 Anyway, so later I go up to Slick's room. A suite, actually. The door is open, people are going in and out. There's a pretty girl answering the phone which rings frequently. Slick is talking on a cell phone. "Let's do this, stupendous, we can close when I get back, the vig won't be a problem, I'm sure. Let's make this happen."
"Jerry, baby," he says, "lets go down to the terrace and have an express." I thought it a little affected that he used the French word (and besides, they unormally just say "café"). I doubt he actually speaks any French. Anyway, we get a table and start to talk.
"Look" he says. "You've got to fix your image - I think you look kind of damaged, haha. I'm going to clue you in on something. Good scripts don't cut deals, good clothes do. These studio guys, they don't read. They're sure that all they have to do is look someone in the eye, check their threads, and then they'll know if they're looking at real talent or not.
"They won't take a chance on some young Pirandello in a berêt. There are just too many flakes running around and they're worried they'll end up looking like an idiot by teeing one of them up. So, you don't have to wear a suit, but you need to look like Barneys."


Previous Installment | Next Installment
Copyright 1994-2008 Film Scouts LLC
Created, produced, and published by Film Scouts LLC
Film Scouts® is a registered trademark of Film Scouts LLC
All rights reserved.

Suggestions? Comments? Fill out our Feedback Form.