Wonderland.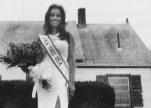 Photo Courtesy of the Sundance Film Festival


In 1947, responding to the nation's worst housing shortage ever, architect William Levitt designed Levittown on Long Island, the first planned sohurb that became the prototype for postwar suburbanization. With its rows and rows of identical houses came flags, TVs built into the wall, and the American Dream commodified. In Wonderland, filmmaker John O'Hagan makes an affectionate visit to present-day Levittown and unearths a land of wondrous and often hilarious contradictions in a community precariously bonded by a shared legacy of being "planned."

Wonderland unfolds in visits with residents who share their daily activities, obsessions, and speculations about neighbors: they bowl, have block parties, collect birds, and play bingo; they also sing karaoke, catch ghosts, and wife swap or at least gossip about it. Miss New York, born and bred in Levittown, shares her exercise tips. But this same Levittown also yields its share of rebels, notably rocker Eddie Money and Bill Griffith, the artist who created "Zippy the Pinhead," the subversive cartoon series.

Shot and edited, as well as directed and produced, by O'Hagan, Wonderland has a strong, evocative visual sensibility. The film captures an abundance of playful, visual detail, but the restraint, humanity, and sheer freedom it gives its subjects to talk, muse, and otherwise pontificate are what make Wonderland so moving. Even though Eddie Money's "Two Tickets to Paradise" doesn't refer to his hometown, his pride is clear.
- Lisanne Skyler

Directed by: John O'Hagan
Original Music by: John O'Hagan

Back to the 1997 Sundance Film Festival
Back to the Reference Library
Copyright 1994-2008 Film Scouts LLC
Created, produced, and published by Film Scouts LLC
Film Scouts® is a registered trademark of Film Scouts LLC
All rights reserved.

Suggestions? Comments? Fill out our Feedback Form.