Small Deaths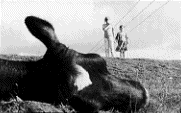 Based on personal memories and experiences of childhood, set in and around a Glasgow housing scheme. A tryptich of moments of reflection and loss in one girl's childhood and adolescence.
Back to the 1996 Cannes Film Festival
Back to the Reference Library
Copyright 1994-2008 Film Scouts LLC
Created, produced, and published by Film Scouts LLC
Film Scouts® is a registered trademark of Film Scouts LLC
All rights reserved.

Suggestions? Comments? Fill out our Feedback Form.