1995 Telluride Film Festival Diaries
A Telluride Diary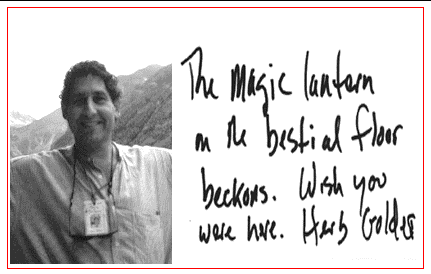 Director/Writer Herb Golder enjoys the Telluride scene

Ellie Lee's Telluride Diary

9am, Friday, September 1, 1995

A whole week's worth of painting and dehydration at the Community Center Theater only made up a minuscule part in this transformation of tiny Telluride. At the full staff meeting yesterday, I felt excitement and camaraderie from nearly 400 staff packed into the Opera House. I realized then what a massive undertaking this festival is - but, as unwieldy as it may seem because of its scale, there are incredibly dedicated staff who've been here for 5, 10, 15+ years - that speaks volumes about what this festival is all about. It seems more like a yearly family reunion - each year you come back to see the baby grow into a more beautiful and involved event, and each family member takes part in helping it to mature and blossom. It's actually quite magical to be involved in all of this. So far, everything that the Harvard faculty has told me is true - this is the most incredibly welcoming and friendly environment to celebrate and enjoy independent cinema. I've met so many like-minded film viewers and filmmakers - it's exhilarating to be surrounded by people who share similar visions and passion about the art. Everywhere I turn there's someone with a smile, or someone who desperately wants to talk about the film screened last night. This is a young filmmaker's paradise.

Yesterday, I found out that my film idols will be here - the most important filmmakers in the world to me: Zhang Yimou, Jan Svankmajer, the Brothers Quay. How lucky am I to be here? On top of meeting and working with some of the kindest and most considerate people on earth, I also have the opportunity to meet some of the greatest artists in the world. I have to overcome my fear of BIG people - what is it about fame that creates such mental anguish and torment in me? I need to confront these fears and overcome these self-inflicted mental barriers. These filmmakers have been so inspiring and influential - it's so silly to be awe-struck and tongue-tied.

9pm.
I did it! I had a fantastic conversation with Zhang Yimou at the Opening Night Feed. I've admired him for years for his rare ability to address relevant, social issues - he epitomizes everything I hold powerful and meaningful about the art of filmmaking - and reinforces that drive in me to make important, relevant, convention-challenging films - to give a voice to the underrepresented, to question what we take for granted or accept as cultural norms, to shake our foundations in order to show/guide us towards what we haven't realized about our culture. I asked him if it was anger, frustration, disgust at, for example, the Chinese government for generating violent fervor around the Cultural Revolution, or the long-standing feudal system and its atrocities to women, that he re-directed into his films. Surprisingly, he answered that it's more profound than just that. His films only encompass 25-30% of his emotion regarding a certain subject. He also spoke of his creative process - he is well-read, and usually looks to novels for inspiration (all of his films are adaptations from novels). Zhang Yimou was surprisingly humble and appreciative of what I had to say. I hope to have more to say after seeing Shanghai Triad.

Tonight at the theater, I had a short, chance meeting with Jan Svankmajer. It was so comical - here I am, unable to speak to him in Czech, German, or French - just a lot of smiling, nodding, and gesturing. I hope to find a translator tomorrow.

I'm working at the smallest theater - the Mason's - with some new and familiar faces. We had a rough start with tonight's films, but everyone working here is still incredibly collected. The experienced staff really go out of their way to make first-years at ease. Everyone here has offered to switch shifts with me so that I could attend the events I'm dying to attend. Why is everyone here so amazing? It's all a bit surreal and overwhelming.
---
[Editor's note: Ellie Lee is a first year staff member of the festival. She brings to it abundant energy and intelligence. When not painting theaters or chasing down filmmakers from around the world she can be found at Harvard, teaching and creating animated works.]



Back to Telluride Film Festival Diaries

Copyright 1994-2008 Film Scouts LLC
Created, produced, and published by Film Scouts LLC
Film Scouts® is a registered trademark of Film Scouts LLC
All rights reserved.

Suggestions? Comments? Fill out our Feedback Form.