1996 Fort Lauderdale Film Festival Diaries
Day 4 - Later (November 10)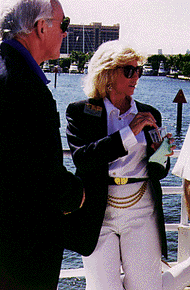 Virginia Miller, with James McKay (of Eastman Kodak)
Sunday, November 10

11 am - Still aboard the Savannah, it's hard to resist the key lime pie. The yacht is developing a slight list to port so it's over to starboard and the nautical set. Time to hear another side of the story. Apparently every arts event these days has its core group of volunteers and the Fort Lauderdale Filmfest is no exception.

Virginia Miller, board president and wearing star-shaped pearl earrings, clues me in on the mystique of sponsorship. Miller says she became involved with the festival 5 years ago via Entrenous, a support group formed to spread the word to the community.

"The festival was very very young, Gregory von Hausch had only been director for a year," says Miller, whose company has been in construction for 24 years. "I have a background in economic development and usually I get involved in these things because I see that it's part of the ball of wax if we are to make this community a first-class community."

Does Miller see the arts as helping economic development or the quality of life?

"Both," says Miller. "Quality of life *is* economic development. If you cannot provide for your citizens, you're nowhere. I've been on board for the Museum of Art, I was chairman of Beaux Arts, I was there for the Performing Arts Center and the Museum of Discovery. Artistically and peoplewise, the film festival had the best executive director in von Hausch. What he needed was a community board to support him. I got 35 people like the CEO of Broward Economic Development, entertainment attorneys and corporate people to be on the board.

"This year," Miller says, "we were able to take the momentum generated by the tenth anniversary and build on it. Blockbuster as a sponsor gives us inernational visibility."


Previous Installment
Copyright 1994-2008 Film Scouts LLC
Created, produced, and published by Film Scouts LLC
Film Scouts® is a registered trademark of Film Scouts LLC
All rights reserved.

Suggestions? Comments? Fill out our Feedback Form.