1996 Fort Lauderdale Film Festival Diaries
Day 3 (November 9)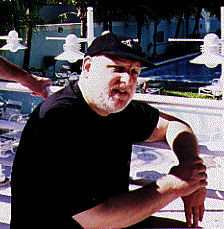 Jim Stark
Saturday, November 9, 1996

Hosted by an Icelandic delegation in the tent outside the Coral Ridges AMC theatre (officially known as the Blockbuster Suite), the party for Fridrik Thor Fridriksson's "Cold Fever" earlier this evening included free expert five-minute shoulder rubs by Yellow Strawberry Hair Salons, a party favor which might well catch on. Out of respect for the film, no doubt, the weather gods dropped the temperature down to 59 degrees.

Returning to Fort Lauderdale for the first time since the premiere of Jarmusch's "Down by Law" (which was also the first film shown at the very first Fort Lauderdale Film Festival), this screening was an emotional moment for independent producer Jim Stark, who shares the script credit with the director and for whom "Cold Fever" represents a rite of passage.

According to Stark, in his lively opening remarks, he fell in love with Iceland in 1989 when he took "Mystery Train," which he also produced, to the Reykjavik Film Festival. A country of only 250,000 inhabitants, albeit with the highest average per capita income and the highest literacy rate, Iceland has nevertheless been producing features since 1979. Fridriksson, one of 12 active directors, was approached by Stark, who had seen his previous feature "White Whales," to develop and direct "Cold Fever."

Actor Mastoshi Nagase, "Mystery Train"'s Japanese tourist in Memphis, here plays Atsushi, a lowball dispassionate Tokyo executive with a mission. Armed with a good map, he sets out across Iceland to find an icy river that was the site of his parents' death, and to conduct memorial rites for them there.

Starting out in light-hearted comedic vein, the visitor soon run into trouble and falls victim to chance roadside encounters and weather-related incidents, which provoked plenty of easy laughter among this sun-sated Florida audience. Among the more eccentric island characters featured is ia woman who "collects" funerals. A funny, quarrelsome American couple (cameo roles for Fisher Stevens and Lili Taylor) talk via glove puppets when all else fails. When these rip-off artists matter-of-factly rob of Atsushi's car, organ music dominates the soundtrack (as opposed to cutting-edge rap-fusion), things get serious, and Atsushi is obliged to trudge through the snow on foot to seek help.

In spite of these numerous picaresque incidents, a simple story premise and suitably light plotting undoubtedly make the chief character in "Cold Fever" the eerily forbidding Icelandic landscape itself - as craggy, snow-covered, blizzard-swept and desolate as they come. Fridriksson's measured pacing and skilful direction leave the viewer plenty of time to be there and feel the cold. He wisely lets the landscape carry most of the film's emotional load. By keeping mostly to the traveller's eye-level point of view, the camera captures the sullen lunar weirdness of the terrain without making a big grandiose spectacle out of it, wich suits the traveller's mission just fine and makes the ending surprisingly touching.

"A journey can take you to a place that is not on any map" is this film's great last line.


Previous Installment | Next Installment
Copyright 1994-2008 Film Scouts LLC
Created, produced, and published by Film Scouts LLC
Film Scouts® is a registered trademark of Film Scouts LLC
All rights reserved.

Suggestions? Comments? Fill out our Feedback Form.