2014 Festroia International Film Festival Diaries
Diary Part 7
CLOSING NIGHT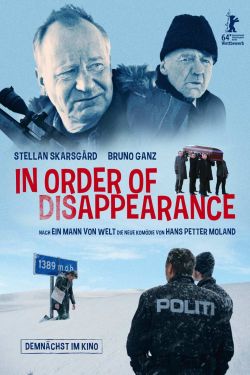 In the closing night's movie, Hans Petter Moland's In order of disappearance (Norway, Official Selection), the son is conspicuously absent. Actually, he just died in the city of what seems to be an overdose. The boy's father, a Swedish immigrant, is certain his son was murdered and his killing made up to look like a self-induced drug incident. When he realizes the police will not investigate any further; this impeccable bourgeois, recently elected Citizen of the Year in his small village, decides to take the matter in his own hands and avenge his son.
And so, stubbornly, he starts killing members of the two main drug-dealing gangs. One by one. Hence the title of the film, which actually goes one step further: it documents the order in which the various characters disappear by showing, in white letters against a black backdrop, a number, the name of the deceased, and the symbol of the dead man's religion, from a Protestant cross to a Star of David. (Nice touch.)
As he pursue his avenging crusade, the father manages to pit the Norwegian gang against the Serb… all you have to do is stay put and wait for the final massacre.
Gleefully.
For, despite what you just read, the film is not a vigilante movie à la Charles Bronson's Death Wish. It is actually closer to the Coen Brothers' Fargo (the sardonic wit) with a dash of Tarantino pimiento (the body count, the surrealistic conversations between hoods on the food served in Norwegian prisons and on the Scandinavian welfare system).
Smartly written, inventively directed and beautifully shot, the film also benefits from exceptional performances by the three leads. As the Serbian gang leader Papa, Bruno Ganz can do no wrong, nor can Stellan Skarsgàrd as the avenging father (this is the actor's fourth collaboration with this director).
The real surprise, however, may very well be Pål Sverre Hagen as the neurotic vegan gangster nicknamed "The Count".. Although he was quite remarkable as Norwegian explorer Thor Heyerdahl in the Oscar-nominated Kon-Tiki, one might not have suspected the actor had such a range.


Previous Installment | Next Installment
Copyright 1994-2008 Film Scouts LLC
Created, produced, and published by Film Scouts LLC
Film Scouts® is a registered trademark of Film Scouts LLC
All rights reserved.

Suggestions? Comments? Fill out our Feedback Form.