2014 Festroia International Film Festival Diaries
Diary Part 4
FATHERS AND SONS (OR DAUGHTERS)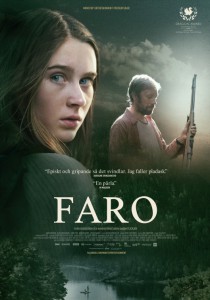 Is it something in the air, pure serendipity or a deliberate choice of the selectors'? Whatever the reason, this year's Festroia is showing an inordinate number of films focusing on the relationship between fathers and sons (and occasionally daughter). The result is a mixed bag.
Hailing from Norway and in competition, Fredrik Edfeld's Faro ("Sanctuary") may have aimed to be a father-daughter variation on Terrence Malik's Badlands. It is not.
The film opens on the uncannily serene Swedish countryside and the arrival of police at a rural home. A teenage girl, Hella (Clara Christiansson), opens the door and is immediately questioned on the whereabouts of her father, wanted for (possibly) murder. After they leave, the father (Jakob Cedergren) returns. Fully aware that, were he sent to jail, she would end up in foster homes, they flee to the mountains and, building a makeshift cabin in the midst of a forest, manage to construct some sort of a life for themselves.
At which point, the father-daughter relationship goes from close to borderline incestuous (a specific reference is made to Oedipus plucking his eyes out). When the pair is finally caught up by the police and the father is shot, the girl goes on a journey to the Portuguese town of Faro, fulfilling her father's dream.
One would wish the director had stuck to this simple yarn. Unfortunately, he throws in odd encounters (a woman living alone in the forest), flashbacks of the father's life and dream sequences – drowning it all with a rather overbearing score.
The actors' performances do not help. If, to this viewer, Cedergren is fine (although on a minor key), Christiansson looks as if she just came out of a teen-oriented TV show or a fashion runway. A long journey all the way to Portugal with nary a hair out of place? Come on!
---
I am not sure Umut Dag's Cracks in Concrete (Austria, Official Selection) achieves what it set out to do – which does not make it any less interesting.
It starts as a drama centered on a former convict who is trying to make amends for his past actions, and his teenaged son, a drug runner and an aspiring musician. The rapport is tense, to say the least, yet somehow, as their relation develops, the boy will confess to a crime he hasn't committed in order to protect his father and prevent him from going back to jail.
Along the line, however, the director veers from that father-son relationship onto generational conflicts within the communities of second- and third-generation immigrants, taking us through discothèques and night-clubs into a world of crime, drug-trafficking and violence, drawing a vitriolic portrait of Vienna as gangland heaven – ultimately making the city his film's main character.
---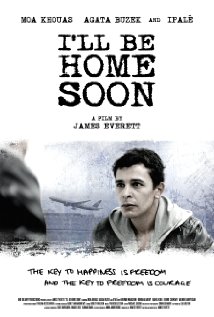 A fifteen-minute short shown in the Panorama section, James Everett's I'll Be Home Soon also focuses on a young man, Bassam, held hostage, as it were, by his father and brothers.
Why is the father; come all the way from his native Algeria, withholding Bassam's passport?
One, because he married a European woman without informing (or even consulting) the rest of the family. Two, because they suspect that under his wife's influence, Bassam may have turned into a terrorist embarking on his first major coup.
The cultural and political clash is well observed (the film is in French, English and Arabic). One would wish the pace were a tad swifter and the dialogue delivered at a faster clip, but there is a lot of energy here and one may want to keep a close eye on budding director James Everett.
---
The son of a Finnish journalist and of American actor George Dickerson (Blue Velvet), Dome Karukoski was born in Cyprus, but the family moved to Finland when he was 5. He is also a Festroia habitué: several of his films were shown here (Forbidden Fruit, Lapland Odyssey) that went on to collect many awards on the international festival circuit.
No doubt his latest opus, Heart of a Lion (Official Selection) will get another one on closing night. It is a solid piece of work, driven by remarkable performances and a great (though predictable) story.
The film is about Teppo (Peter Franzen) who, along with his brother Harri (Jasper Pääkkönen), belongs to the White Finland neo-Nazi gang – as evinced by their numerous (and unambiguous) tattoos. Falling in love with a very blonde Finn, Sari (Laura Birn), Teppo finds himself forced to live with his girlfriend's son - whose father happens to be of African descent. A fact he carefully hides from his brother and from the other gang members, even when he joins them in aggressing people of color "just to prove where he stands". It is fairly easy to figure out how the story will pan out – after all, it is a feel-good movie, and unabashedly so.
If the director cautiously portrays the two brothers not as monsters but as "regular" guys who just believe in wrong things, he also makes you wonder about the social, economical and political elements that led to the present proliferation of such xenophobic movements throughout Europe (particularly Northern). He does not dwell on it, for if he had, Heart of a Lion would have been a much darker movie.


Previous Installment | Next Installment
Copyright 1994-2008 Film Scouts LLC
Created, produced, and published by Film Scouts LLC
Film Scouts® is a registered trademark of Film Scouts LLC
All rights reserved.

Suggestions? Comments? Fill out our Feedback Form.