2002 Cannes Film Festival Diaries
Cannes Diary



Part fashion train wreck, part entertainment industry fraternity party, we just can't look away from Cannes during the annual Festival International du Film. The entire indigenous population of the town has been removed and replaced by movie people of the strangest possible stripes. The city used to literally bus the local homeless up to the hills because it would take them all day to walk back down to the Croisette (the beachfront road and esplanade) and spoil the shenanigans. Huge crowds from all over Europe form behind barricades and outside hotel balconies and holler themselves hoarse at "celebrities" we've never heard of (like French cover girl Emmanuelle Béart). No wonder we remember the Cannes debuts of the likes of Pamela Anderson and Howard Stern, but who remembers their movies "Barb Wire" and "Private Parts"?
---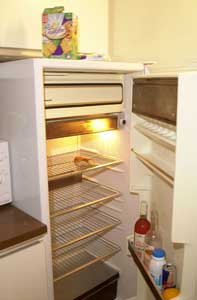 OK, a quick check of the Cannes refrigerator reveals a half bottle of Bandol rosé with the cork pushed in (better finish that up), a carton of milk, an orange, a bit of Red Bull and half an unwrapped croissant. There's also an opened pack of apricot biscuits on top of the fridge but they have tested too stale to be edible. Let's go out. Shagging reservations here can be harder than a Friday night at Nobu, but we've got a couple fairly discreet options.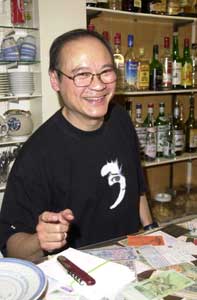 At casual Vietnamese Le Jade (24 Rue Pasteur, +33.4.93.94.33.49), proprietor Mi (no last name) is tough but fair; even slightly late arrivals might not get seated if he doesn't know you. If you can't get RKO Pictures' charming eccentric June Shelley to order for you, try the spring rolls, jade pancakes and spare ribs. June likes the lemon tarts for dessert, but we eat them just to be polite. Stuff your business card or a bank note under the glass tabletops before you go, but make sure not to cover anyone else's up.
---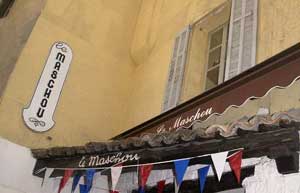 Next, trudge up the historic Rue St. Antoine in the Vieux Port to Le Maschou (15, Rue de Saint Antoine, +33.4.93.39.62.61). The antipasti course consists of a half-bushel basket of crudités that look as if they've been, uh, augmented. They haul singed hunks of steaks and chops out of a charcoal oven that casts a warm orange glow across a dense, hot, low-ceilinged room that includes habitués Rob Reiner, Harvey Weinstein and Curtis Hansen. Also, for exotique Tahitian and Morroccan cuisine, try Tantra (13, Rue de Docteur Gerard Monod +33.4.93.39.40.39) and Harum (16, Rue des Freres Pradignac +33..6.18.09.70.28), respectively, behind the Carlton hotel.
---
If you really want to push the boat out, book Roger Verge's Moulin de Mougins (Ave. Notre Dame de Vie, Mougins +33.4.93.75.78.24) and leave a trail of bread crumbs to find your way back to town. This restaurant is expensive in a way that shocks people from Tokyo. Whatever else you eat, order the traditional chariot du fromage, because you're in luck: twice a year (May and December), they've got Maroilles, an, ahem, very, very, VERY strong cheese. To boys it smells like vomit. For girls, it induces, well, we don't know how else to say it, orgasms. Trust us on this.
Last week's James Beard Award winner and Bon Appetit chef for the American Pavilion, La Cachette's "Molto" Mario Batali opened the Pavilion by performing a pizza toss on the beach with Christina Ricci. Later he delivered a custom-made pizza for precious Matt Lauer, who asked to have the anchovies taken off.
---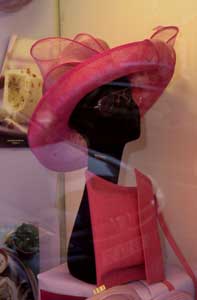 For shopping, there's the obligatory walk along the Rue d'Antibes. Marquee designers abound (although probably a little more resort/preppy than back home),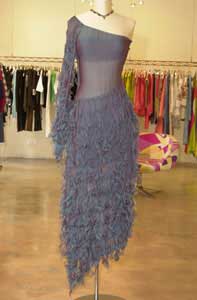 including Yves St. Laurent, Gucci, Celine Vuitton, LaCroix - it's all here and 10-20 percent cheaper than in the States, and you can get the VAT back (another 13%) at the airport. We like Le Grand Bazar (68 Rue d'Antibes +33.4.93.38.33.83) for funky and fabulous couture. We can't afford the blue Romeo Gigli shredded blue backless dress at €8,500 with the Miguel As necklace, so we had to take the consolation belt - a western-style, hand-tooled number with a big butterfly clasp.
---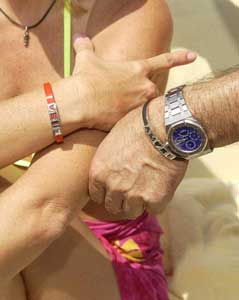 Because all that is old is new again, we couldn't resist a pair of €85 Le Coq Sportif sneakers at Western Shop (44 Rue des Serbes, +33.4.93.39.85.21). Some things, of course, are priceless, like a t-shirt we couldn't buy off some guy's chest that read, "The Liver is Evil and Must be Punished."
On Saturdays, don't miss the flea market on the parade ground just to the west of the Palais. What're the jewels among the dross? That cool bubbly glass from nearby Biot, antique cameras, old film and advertising posters, and European HO trains from the 50's and 60's. The shiny silver SNCF electric locomotive we brought back last year so impressed the guys at The Roundhouse in Sherman Oaks we felt compelled to go back and buy more. Sadly, it got rained out the first weekend of the Festival but it doesn't mean bargains and sun won't await you the second.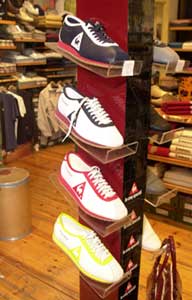 But why buy when you can shop for free? Cannes is the apogee of the recent trend to create swanky party venues catering to the celebrity and swell crowd's need for swag, and the gift bags we collected there and from parties required our most practical purchase: a big cheap duffle from Galleries Lafayette to haul all the stuff home in. The absolute best of the best? Had to be the "Hollywood Celebrity" boat, hosted by LA's Cabana Girls (though they brought a cabana boy this year), which showered visitors including Rosanna and Patricia Arquette, the pneumatic Victoria Silverstadt and Stephen Dorff with items ranging from Dolce & Gabana sunglasses to filmy rayon nighties. Adam Saaks from Von Dutch will cut and distress and hand-tie a t-shirt for select folks on the spot, on your body. We're also sporting a rubber bracelet with our love's name on it from My Philosophy.
The Synergy House in Cap d'Antibes was a respectable but distant runner-up, and hosted a party honoring rapper Jay-Z (a no-show) for Aaliyah ex Damon John's Roca Wear. The light celeb turnout included Ivana Trump, Monster's Ball producer Lee Daniels, and celeb stylist Phillip Block. OK, most all this stuff is here year after year, but the parties are a once in a lifetime experiences. Some highlight and lowlights of the opening weekend:
---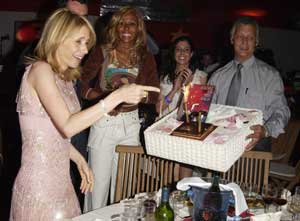 Rosanna Arquette's party for her directorial debut "Searching for Deborah Winger" kicked off the festival. For us, her quirky sensuality will always eclipse "cuter" sis Patricia.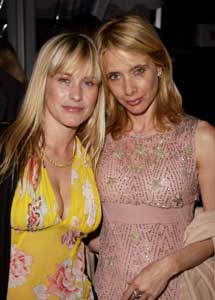 Rosanna and Patricia made a brash entrance at the beachside dinner honoring Rosanna's documentary "experience" on Winger, but two words describe the celebrity-free after-party at the Club Martinez: quelle horreur! Or, "cash bar." While there were a lot of simply surprised and angry people, almost everyone loved Rosanna's classic DJ set, which included tunes from The Clash, The Tubes, James Brown, Parliament Funkadelic, Earth Wind and Fire, and Iggy Pop. The sole holdout? A Brit guy sneered to us, "She wouldn't go far in England with that mix."
---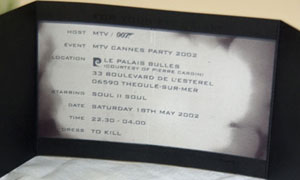 The MTV party, honoring the latest James Bond flick "Die Another Day", returned for its second year at Pierre Cardin's Chateau Les Bulles (if you've ever dreamed of living in a concrete spaceship this is the home for you) in Theoule, about twelve kilometers west of the city centre. Easily the coolest invite of the year, the invitation appears all black until you rub it with your fingers - the heat makes the ink disappear and reveal the party details. Last year we lost our crushable straw Borsalino chapeau in less than 12 hours to Brit socialites Mandy and Sonia Cademon.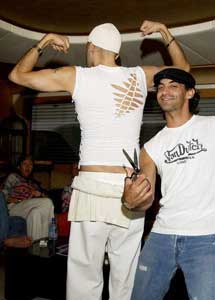 This year the vendeuse at La Chapellerie Tesi (corner of Rue Louis Blau et Rue Meynader) literally called out "chaque annee!" when we walked in to buy our fourth replacement. This year our escorts were "Sabrina the Teenage Witch" Melissa Joan Hart, her mom Paula and stepdad Leslie. Pierre Cardin himself made an appearance with Pierce Brosnan and wife Keli Shaye Smith for an evening including casino gambling and a performance by proto chill-out 80's act Soul II Soul. We gave pal Rachel Lee Cook a lift home and were tucked in by 3AM.
The hardest ticket in town, the Vanity Fair folks turned down Rosanna Arquette's boyfriend David Codikow for their party, and her movie's in the main selection of the festival. Melissa and ta famille pooped out, but tons of other celebs vied for lineage in the mag at the Hotel du Cap, including Mick Jagger, Sting and Trudy Styler, Diane von Furstenberg and Barry Diller, Hayden Christiansen, Emily Watson, Frances McDormand, Allesandro Novolla, Michael Moore and Gina Gershon. Leonardo di Caprio came to the dinner but split for the 24 Hour Party People party at the Majestic Beach so he could swipe, er, select handfuls of free Davidoff Cuban cigars.
---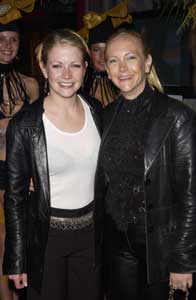 Oh, by the way, there is a pretty fierce film festival going on around all this (you still have time to pack your bags; the Fest runs through Sunday). From le grande spectacle of the montés marches at Le Palais des Festivals to the scruffy individualism of indie outriders Slamdunk unspooling on the roof of a beachfront hotel, Cannes features hundreds of official, sidebar and just plain unauthorized selections. So, if you want to come in away from the balmy sunshine, topless beachgoers and celebrity spotting and sit in a dark room and watch movies, that's your prerogative. Freak.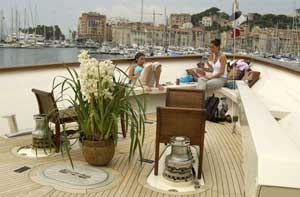 All photos copyright 2002 WireImage
---
Back to Cannes Film Festival Diaries
Copyright 1994-2008 Film Scouts LLC
Created, produced, and published by Film Scouts LLC
Film Scouts® is a registered trademark of Film Scouts LLC
All rights reserved.

Suggestions? Comments? Fill out our Feedback Form.