2000 Cannes Film Festival Diaries
Pop-Top Cannes #6
Film Scouts on the Riviera 2000 is presented by: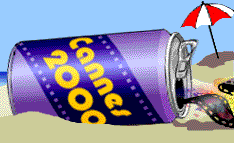 Yesterday, Slick calls me and says he's got invitations to a big bash for a major studio release. I've never been to one of these lavish, sometimes legendary launch parties, so of course I accept. (The film is not at all part of the Festival, but it's common for publicity campaigns to begin here with a big party just to take advantage of the more-or-less captive press presence).
We arrive. There's a big mob of hapeless wanna-get-ins that we have to push our way through, and security is tight. Our tickets are exchanged at the door for a trinket to wear around the neck, identifying us as invited guests. The party features a name DJ and go-go girls flown in from LA just for the occasion.
It turns out, at the VIP sanctum, that our particular trinkets identify us as ordinary people, not VIPs. Slick is furious, he demands to speak with the head of security. "There must be some mistake, I know I'm on the VIP list. I'm a DMI agent. We were given the wrong ID's at the door."
"Oui, Monsieur, sure thing. Et moi, I'm Gérard Depardieu. There is no mistake." Slick tells me he's going to wait for someone from DMI to show up and slip him through. I take off to the dance floor and enjoy myself. I don't see Slick again that evening. I think he preferred to slink out rather than be seen with the wrong trinket around his neck.


Previous Installment | Next Installment
Copyright 1994-2008 Film Scouts LLC
Created, produced, and published by Film Scouts LLC
Film Scouts® is a registered trademark of Film Scouts LLC
All rights reserved.

Suggestions? Comments? Fill out our Feedback Form.