1995 Independent Feature Film Market Buzz
Two Filmmakers get a Taste of Incarceration



September 18, 1995

Hugh Grant, eat your heart out...

The producers for the film "Counter-Clockwise," in an attempt to promote their film, which screened today, were arrested for "making graffiti," "criminal mischief" and "unlawful posting." So says the photo copy of the bench warrant (below) they were handing out to further promote their film.

At 11pm Sunday night "we were putting up posters when a plain car pulled up and two guys got out and told us to put our hands on the hood," said Robert Doyle one of the producers of the film. "It wasn't like we were postering the window of Chanel, there were other posters everywhere."

Being from Boston I guess they didn't know that Mayor Giuliani has a personal thing against graffiti and has made it a number one priority. At least when they were locked up some real criminals were in the cage. When one of the two other perps asked what they did. Richard Sundue the other producer of the film and who is a skinny little guy, answered "we killed someone." Doyle followed up by saying he was "Keyser Soze". To their amazement, both the other two guys started laughing. It seems they had seen the film.

Now the question is, what's the plot for the their next crime?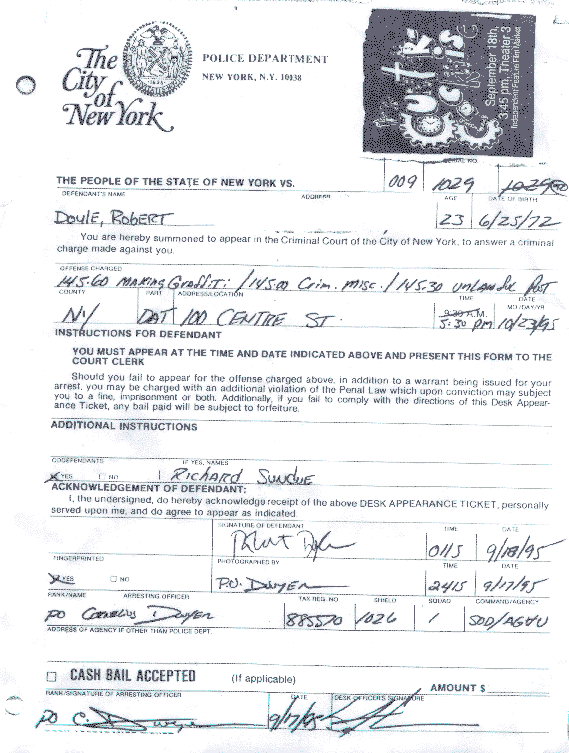 Back to Independent Feature Film Market Buzz
Copyright 1994-2008 Film Scouts LLC
Created, produced, and published by Film Scouts LLC
Film Scouts® is a registered trademark of Film Scouts LLC
All rights reserved.

Suggestions? Comments? Fill out our Feedback Form.