2012 Torino Film Festival Diaries
Part 2
Random Notes
on some of Joseph Losey's earlier films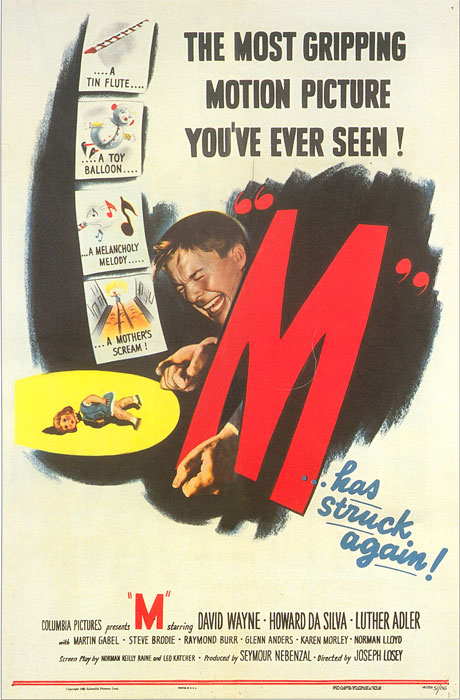 M (1951) : Fritz Lang's M is a classic, no doubt about it. So why on earth would Joseph Losey want to remake it? How closely would its plot follow the one penned by Thea von Harbou? Could it ever measure up to the original?

Answer to question 1: Too long to get into. Apparently, however,Fritz Lang was first offered to direct the American remake but turned it down in no uncertain terms.

Answer 2: Pretty closely. As a child murderer is at large in the city, the police conduct a manhunt so intense that it interferes with the operations of the crime syndicate. To ease the pressure, the underworld warlords launch into a search of their own. They get to the psycho first, "try" him, as it were, in a secret location. As the killer pleads for mercy and understanding, police break in…

Answer 3: It doesn't compete with Lang's classic, it complements it. Beyond the story line, they both describe how a troubled society reacts to a crisis (urban, national, political), and the hysteria that pervaded Germany in the early 1930s is perfectly echoed by the one that shook Hollywood (and America) in the early 1950s. A touch Joseph Losey adds that Fritz Lang couldn't possibly: the rising power of that young medium known as television which fueled the paranoia of the (also young) nuclear age.

A bonus: Reprising Peter Lorre's unforgettable child molester, David Wayne, generally known for much lighter work, delivers a performance so subtle and so intense that, in a weird way (to this viewer at least), it might prefigure Anthony Perkins' Norman Bates in Alfred Hitchcock's Psycho.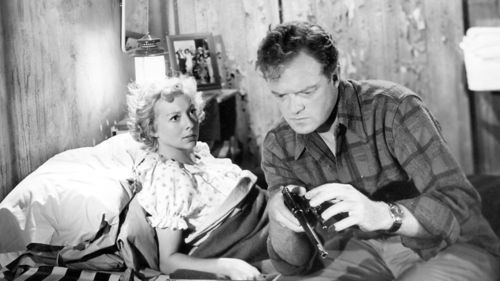 Sneaky, gritty, nocturnal and erotic, The Prowler (1951) pits a wealthy would-be actress (Evelyn Keyes) against the cop she calls to investigate a Peeping Tom outside her window. The cop (Van Heflin) soon turns into a predator and, going on the prowl himself, starts stalking the vulnerable young woman. In early 2010, the film was revived at New York's Film Forum in a remarkably restored print – and I guess Village Voice then-critic J. Hoberman summed it best: "The Prowler may be the creepiest of classic noirs. Joseph Losey's hard-to-see third feature is a tawdry tale of sexual power relations that anticipates the director's early-'60s art-house comeback, The Servant."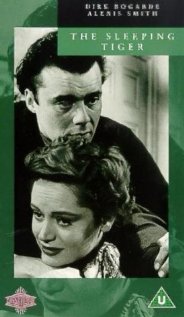 Missed Imbarco a Mezzanotte , which Losey shot in Italy in 1952 (as Andrea Forzano), based on a story by Noël Calef (La Bouteille de Lait / the Milk Bottle) and scripted by blacklisted Ben Barzman. An absolute rarity, "and a gem," I am (repeatedly) told by both Michel Ciment and Hubert Niogret, of the legendary French publication Positif.
So I sneak in to catch a glimpse of The Sleeping Tiger , shot in England in 1954. Too late to make full sense of the story line, but long enough to realize something very Freudian is happening between a young hooligan (Dirk Bogarde), his psychiatrist (Alexander Knox) at whose house he is staying for a six-month-long therapy "experiment", and the old man's American-born wife (Alexis Smith) who soon embarks on an affair with the young hood. And since, as they say, "hell hath no fury…" The film may be hyperbolically melodramatic and shot in an overly baroque style, but Alexis Smith is gorgeous as the "deeply twisted woman who has everything but a soul," as an American filmgoer said after the screening. (Whoever he was quoting was right on the money).


Previous Installment | Next Installment
Copyright 1994-2008 Film Scouts LLC
Created, produced, and published by Film Scouts LLC
Film Scouts® is a registered trademark of Film Scouts LLC
All rights reserved.

Suggestions? Comments? Fill out our Feedback Form.